This world is huge; it is majestic; it is worth exploring just for the sake of knowing it.
– Tsh Oxenreider, At Home in the World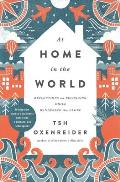 I recently had the opportunity to be part of the Launch Team for Tsh Oxenreider's newest book, At Home in the World: Reflections on Belonging while Wandering the Globe. I'll provide a full review below, but suffice to say I definitely recommend it as a great read about global travel, balancing opposing parts of your life and personality, traveling with children (if you have them), and a bonus helping of armchair exploration of some beautiful places.
First, a little bit of background on why I am so happy to help launch this book.
I've been a reader and follower of Tsh's work for several years now. While we have very different lives on the surface — she has three children, I have none; she follows a structured faith tradition, I find my inspiration in the mountains — we also have some areas of deeply shared interest. Tsh writes about simple living, one of my passions; she is a dedicated traveler, something I identify with; and she is a full time writer, something I aspire to. I've found continual insight and motivation in Tsh's writing and podcast, and enjoyed her earlier books. Finally, her e-course Upstream Field Guide was a really helpful tool for me as I moved through the mental space and preparations for our big move and life transition.
So all this to say, I'm predisposed to a positive opinion on Tsh's new book. I am a fan of the author, her voice resonates with me, and it's a book about global travel. What's not to love?
At Home in the World is an account of Tsh's travel — alongside her husband and three young children — around the world over nine months. With stops in Asia, Australia/New Zealand, Africa, and Europe, it's an itinerary worthy of any itinerant wanderer.
If you are simply a lover of travel memoirs, this is a great book for you.
Tsh's writing is evocative and brings you into each place so that you can almost smell and taste the descriptions on the page. Having traveled to a number of the destinations myself, Tsh's words drew me back to the bustle of Thailand, the jaw-dropping beauty of New Zealand, the deliciousness of Turkish breakfast, and the old-world charm of southern Europe.
One of my favorite quotes:
Thai food tastes like ocean and timeworn tradition, fields of basil and groves of mango. Streetwise cooks in aprons and flip-flops stir salty tamarind through rice noodles and hand patrons limes to squeeze over their bowls Paired with glugs of Singha bubbling water and it is the best three-dollar investment of your life.
Beyond the travel stories, however, Tsh's book is also about coming to better understand her own place in the world. She writes of the duality of loving to travel while also desiring roots. She struggles to balance her endless wanderlust and her homebody personality, until coming to a series of realizations about how she can structure a life encompassing both critical parts of herself.
For anyone who has traveled and also sought the comfort of the familiar, Tsh's words are a great reflection and guide.
Finally, a lot of Tsh's story is about traveling with young children. This part of the book did not engage with me directly, but I would love to press this book into the hands of some of my friends who are hesitant to travel because of the age or inexperience of their kids. Tsh offers great thoughts on the importance of traveling early and traveling often. After all, travel is a life skill, just like anything else, and it seems to me that children would benefit from early exposure to both the practicalities of traveling, and the broader lessons of flexibility, acceptance, and awareness of the world's diversity that come along with new destinations.
The only criticism I can offer, and what keeps this book from five stars, is that the book as a whole reads as an idyllic experience. Certainly, there are anecdotes of travel sickness, children's tantrums, the stress of constant togetherness, and lost items. But in total, the trip comes across as easy and delightful. I think this is a good thing – an encouragement to others to push past their fears and embrace the idea of global travel with their families. But I also wonder if there were parts of the story that were not as fully explored. Ultimately, however, it's worth your time and certainly a book I will recommend to various friends and people in my life.
Pre-Order Your Copy Today!
Pre-order through Tsh's website. She is offering some pre-order goodies!
You can also pre-order through Amazon, or through Powells, my favorite independent bookstore.
Please note, any links to books are Affiliate Links. Should you wish to make a purchase, clicking these links helps to support my writing.